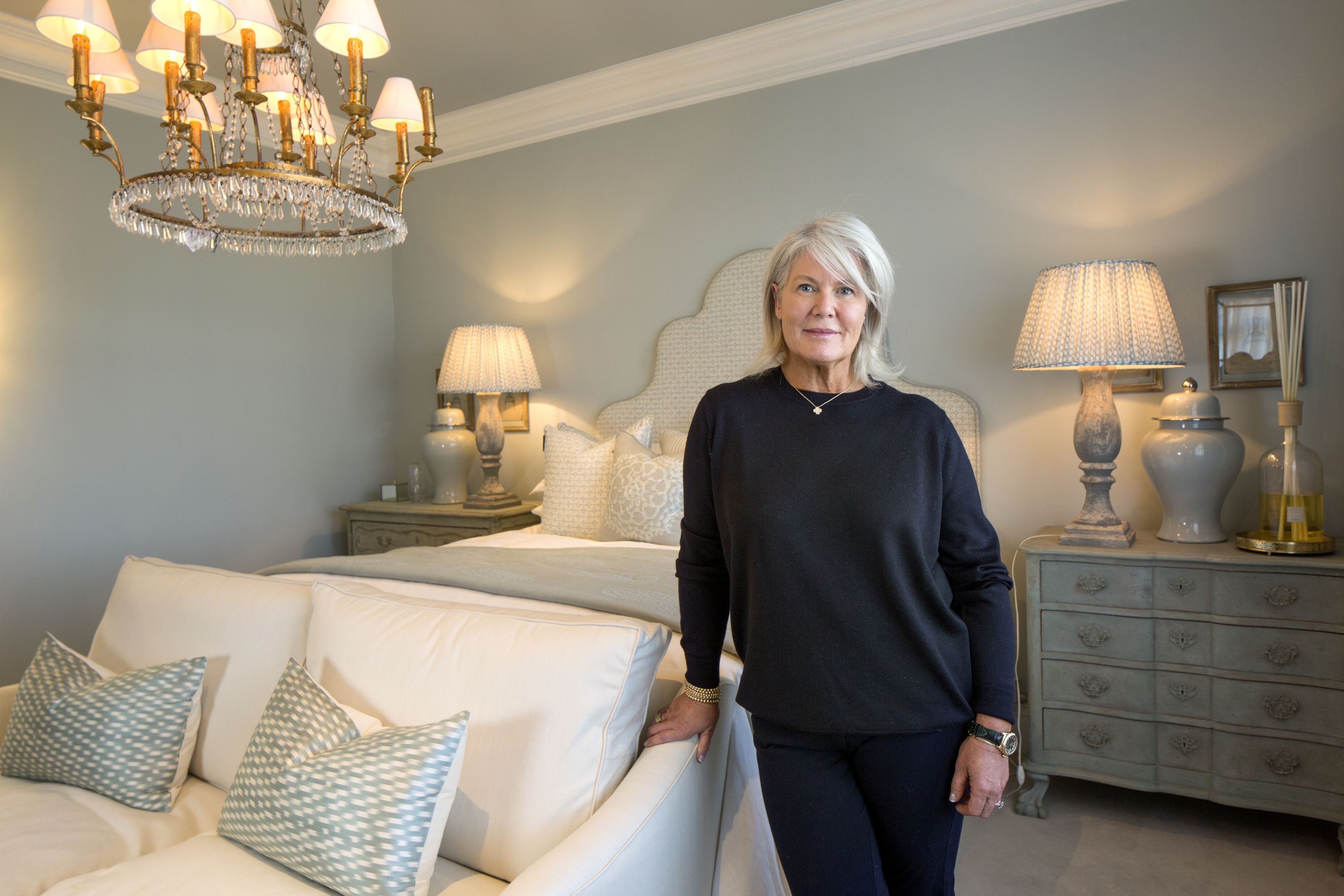 Interior designer Helen Turkington in her showrooms in Sandyford. Photo: Tony Gavin
Business: Helen Turkington
Set up: 2006
Founder: Helen Turkington
Turnover: €5m
No of Employees: 16
Location: Dublin
As a nation that is famous for hospitality, we take enormous pride in our homes. Our homes are an extension of ourselves, our personalities and our taste. Once upon a time, we purchased furniture and accessories to last a lifetime. Now we tire more quickly than our parents did and we change our look more often. The business of interiors is a growing industry.
Helen Turkington — Interior Designers Decorators
Helen Turkington is an organisation specialising in interior décor for the residential market. Founded by Helen Turkington in 2006, it is now the top destination in Ireland for advice and inspiration on how to make a home look amazing.
Creativity, art and design is in Helen's blood as she comes from a Cookstown, Co Tyrone family that has specialised for years in fabrics and paints.
As a young girl, Helen moved to London and initially trained in food and wine. Then while working for an Irish developer as his 'girl Friday', dressing his Newmarket home for events and parties, she found that she was more passionate about interior décor. On her return to Ireland, she worked in the family business in Cookstown. "My mother was an interior designer but I never wanted to be one. Yet I found myself drawn to it by accident really," said Helen.
"The business already had a reputation for importing fabrics directly from the mills, which meant that we could sell high-quality fabrics at very competitive prices. So we opened two more dedicated stores in Enniskillen and Newbridge, selling fabric on rolls rather than swatches" she added.
Helen opened her own store under her own name in Dunville Avenue Ranelagh in 2004. Initially she was the exclusive Irish stockist for The White Company as well as Farrow & Ball and growth came quickly. This established her brand with the premium end of the market.
However, downward pressure on margin during the downturn prompted her to drop those brands and switch to fabrics. That introduced curtains and re-upholstering to the mix.
As time went on and with a beautiful store stocked with fabrics, flowers and interior accessories were added. Helen then found herself being invited to fit out premium homes. The interior design and décor business just evolved from that.
The Business Model
The company is known for having a very particular style that Helen herself describes as contemporary classic.
"In the same way that a black dress is a core wardrobe item and can be accessorised with a belt, shoes or a scarf, we like to keep our designs simple with timeless elegance," said Helen.
Colour and design can be introduced with cushions, fabrics and curtains to enhance the look and finish the room. And they, of course, can be changed more often as the homeowner tires of a look.
When homeowners engage with the company for a home makeover, they will delight in showing off the results to their friends and family.
Today, most of the business — which also includes a design service — comes from referrals.
As the business has grown over the years, Helen by herself couldn't cope with the number of enquiries coming in.
It has since scaled up with the addition of a talented young team of designers and decorators. The challenge was to ensure that the brand's signature was retained in all projects, regardless of the designer.
An exquisite new showroom in Spruce Avenue in Sandyford was added in 2015 to showcase the look and the themes, with customer visits by appointment only. This splendid array of luxury and quality is key to ensuring continuity of the brand.
It is a source of inspiration and aspiration not only to customers but to the dedicated team also.
The market is full of independent competitors, so staying ahead and innovating is a crucial part of the success story.
With an amazing knack for seeing trends in advance, Helen and the team spend hours on research in the company's creative studio in Sandyford.
This ensures that they stay ahead of the trends curve and the competition. "In days gone by, mood boards were developed to present a look, but now with various platforms like Pinterest and Houzz and of course our own showroom, we have a really strong and efficient point of difference for our customer," said Helen.
The Future
Launching soon is a new brand called Turkington Rock (a joint venture with Red Rock Developments), a residential development company designing and building high-end homes.
"The internal layout and design is not being focused on early enough in many new developments.
"This is critical and it means we will deliver amazing homes that have been designed with families in mind" said Helen.
I have recently worked with Helen and the team and I know that innovation and creativity take centre stage.
As Helen looks to the completion of her own new home, she is playing around with two other ideas. One is to write and publish a coffee-table book of pictures and concepts. The other is to develop a learning academy, with classes on home styling, entertaining, flower arranging and more.